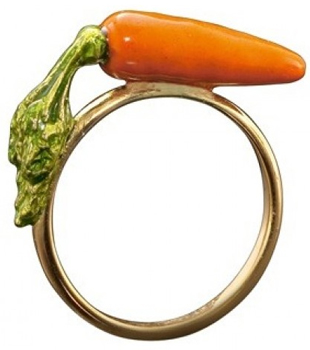 Let's keep it real – every girl wants a couple of carats on her finger. That's 'carats' though, not 'carrots'. Jewelry designer Solange Azagury-Partridge 's new "Tough Love" 30-piece bridal collection pokes fun at a girl's best friend by replacing a diamond with a carrot atop one ring. Other cheeky pieces include a double decker diamond ring and a diamond-studded lips ring.
The launch will take place in May in the form of a bridal shower at the designer's studio – complete with cocktails and manicures. Prices range from $1,500-$226,000.
Ed: The 'one-carrot' ring would make a fun addition to my upcoming wedding day. Alongside my multi-'carat' ring, of course.
Via WWD