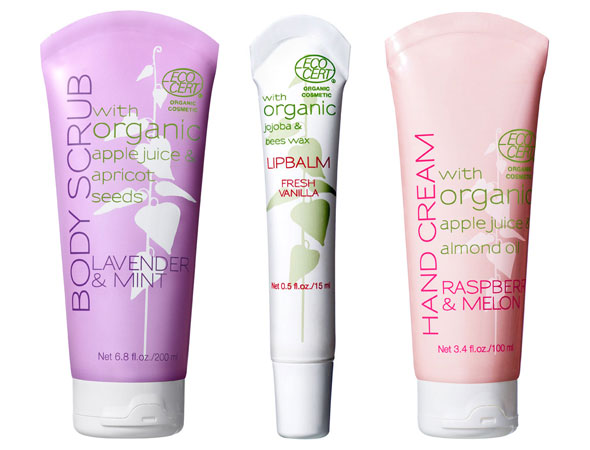 By now, H&M has become a central stop on our fashion radar. Want to grab a date-night outfit? Check. Need a look for fashion week? Check. Want a piece of a designer collaboration? Check. Eco-friendly fashion? Some unique yet affordable accessories and shoes? Check and check. For all things fashion, you only need to make a stop at H&M – they have it all. But there's one area that H&M had yet to enter, and that was the beauty market. Until now.
H&M recently announced the launch of its' first-ever skincare line, which will be available in stores come the end of March. The range of essentials includes natural and Ecocert-certified organic shower gel, body scrub, lotion, hand cream and lip balm, accompanied by make-up and toilet bags made from organic cotton. (Ecocert is Europe's biggest certification body for organic and natural cosmetics.)
"It felt like a natural step, since we've worked with organic cotton garments for a few seasons, now," said Ann-Sofie Johansson, H&M's chief of design. "There's also a strong demand from our customers for organics, and I hope they will be as excited as I am about the new products."
The shower gel contains the juice of organic apples, which, along with apricot seeds are also key ingredients in the body scrub. The body lotion contains organic apple juice and sunflower seed oils and the hand cream has organic apple juice and organic almond seed oils. The lip-balm is filled with jojoba and beeswax. All of the products are scented with natural perfumes derived from essential oils, including raspberry and melon or lavender and mint, and are sold in recyclable packaging.
Prices range from €3,90 – €6,90.
Photos: courtesy of H&M