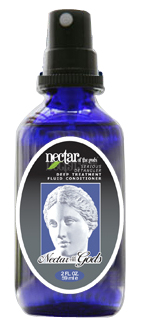 Do you like shiny, healthy, beautiful hair? Are you always searching for the best in hair care? Well, your search may be over after you give Nectar of the Gods a try. I was very intrigued to try this Italian hair care product because it claims to do so much! Use as a leave in conditioner, a detangler, a color sealer, a deep treatment and an anti-frizz agent.
I tried it as a deep conditioner in the shower after shampooing. I used it on wet hair as a detangler/leave-in conditioner. And I spritzed it on my dry hair to freshen up my hairstyle. No matter how I used Nectar of the Gods Hair Care Conditioning Treatment I got the same result…shiny, frizz-free, healthy hair!
Interested yet? Well if you like a natural, silicone-free product that will leave your hair shiny and gorgeous after just one use, then you should be.
Fortified with coconut-derived emollients and conditioners, Nectar of the Gods goes on as a spray and a little goes a long way. It is also great to use to seal in moisture and promote shine when using heat-styling tools. It's been the buzz around celebrity stylists and can be found at exclusive salons and spas. Click the link to purchase your own bottle at Nectar of the Gods.