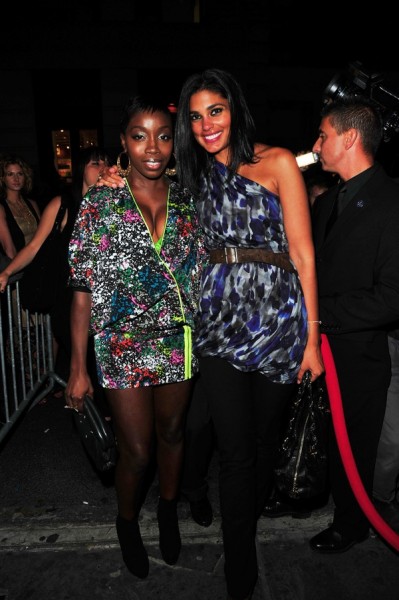 At last year's Fashion's Night Out, I visited the RACHEL Rachel Roy pop-up store and it was amazing. There was a graffiti wall, a drag queen DJ, celebrity appearances and of course, Rachel Roy's hot collection of apparel and accessories for Macy's. Well, if you didn't get a chance to make it, don't worry – next week Rachel will be hosting a digital pop-up store on her Facebook page.
Rachel Roy, along with singer (and her close friend) Estelle, created a limited-edition jewelry collection. If you're her fan on Facebook, you'll get a chance to preview – (and shop!) the collection before it even goes into stores. The pop-up shop launches on February 9 and will stay open for only three days. You'll have the chance to buy Rachel and Estelle's collaborative jewelry collection includes funky rings, ear cuffs, and statement necklaces. Prices will range from $34 – $50. Plus, you will get the chance to buy an ultra-exclusive full-finger petal ring that was designed for Rachel & Estelle's closest fashion and music friends. The petal ring will only be available through Facebook!
Mark your calendar to shop this exclusive sale of February 9!
Click to fan Rachel on Facebook
For more on Rachel Roy, visit Rachel Roy online.