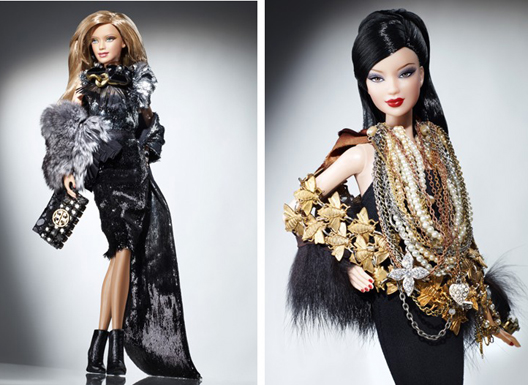 Yesterday I told you about the Barbie Basics LBD collection of dolls. Well, I had the chance to preview the one-of-a-kind designer dolls last night at Openhouse Gallery. The Kir Royale cocktails were flowing, the hors d'oeuvres were being passed and I got a chance to catch up with some of my favorite fashion bloggers. Then came the unveiling. Oh boy! If only I could have Barbie's one-of-a-kind outfits for myself! The looks were everything you'd expect – and more! All of the dolls were styled amazingly, but my faves had to be the Betsey Johnson Barbie with the wide sheer skirt, the Devi Kroell Barbie with mirrored pants and an 'exotic' handbag, the Lorraine Schwartz Barbie with $10,000 of real diamonds on it, and the Subversive Barbie with a chunky, layered pearl necklace! Icing on the cake – designer Justin Giunta (Subversive) was there and told me about his inspiration for accessorizing Barbie, his jewelry line and his upcoming jewelry collaboration with Tory Burch!
Overall, all of the dolls were nothing short of fabulous! And as promised, bidding has begun on the dolls so if you want to get your hands on these one-of-a-kind designer dolls, whip out your credit cards and snap up one – or a few! Proceeds will benefit CFDA education and scholarship programs.
Make sure to follow Barbie on Twitter (@BarbieStyle) and check out her blog, where CFDA designer Justin Giunta has a guest blog about his designer doll.
Special thanks to Attention PR, Steven Kolb – Executive Director, CFDA, and Stephanie Cota – SVP, Barbie for hosting this event!