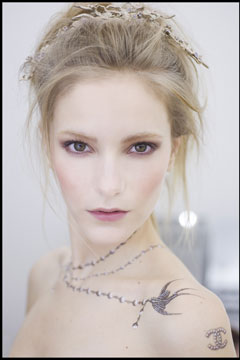 Remember the temporary tattoos of childhood – the ones you rubbed onto your skin with water? Who would have thought that they'd one day be available from a couture fashion house?
Chanel is revisiting the youthful skin art, but in a high fashion way. As seen on the Paris runway from its Spring/Summer 2010 show, Chanel is soon launching its collection of 25 exclusive temporary tattoos of its iconic codes and symbols (like the double 'C' logo, of course). The tatts are based on the limited-edition designs of global creative director, Peter Philips. Called Les Trompe L'Oeil de CHANEL Temporary Skin Art, these packs of Chanel tattoos will be sold soon for $75 at Chanel.com.
Want to wear Chanel on your skin? Click here to sign up for the waiting list.
Images via Styelist and Chanel