Several weeks ago, What's Haute Magazine was invited to a red carpet fall shopping event at Marshall's. We joined a very small, hand-selected group of fellow bloggers, including Eye 4 Style, Style IT, Felicia Sullivan, I'm Not Obsessed and Nanodism with host, Alison Deyette, to get a behind the scenes look at off-price shopping and "shopportunity".
I've always been a fan of both Marshall's and TJ Maxx. Though off-price shopping is not for all, it's great for those like me who love the thrill of the hunt. In my lifetime I've found tons of amazing authentic designer picks at both stores, including everything from Dior and Gucci sunglasses, to Valentino dresses, Emilio Pucci accessories, Katherine Kwei and Michael Kors handbags – you get the picture. And this instance was no different. We saw everything from Calvin Klein dresses, to Coach bags, to Diane von Furstenburg shoes gracing the racks.
In case you thought off-price meant "last season", you'd be surprised to know that Marshall's provides clothes that are in season. They have buyers that visit manufacturers all over the country looking for stylish finds. When designers have an excess of shirts, shoes, bags, etc. from their designs not selling out in department stores or boutiques, the clothes are returned to them and they need to figure out an alternative to selling it. This is where Marshall's comes in.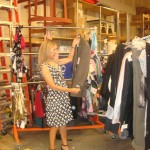 After department store or boutique buyers place their orders, Marshall's buyers purchase the excess and put them in stores right away. (Marshall's and TJ Maxx get 10,000 pieces of new merchandise each week, spread out among their 1,600 stores.) That means that you can get the same pricey department store or boutique clothes in Marshall's at the exact same time and for a much lower price! And they don't return any clothing to the designer – they just mark it down until it's sold and if it doesn't sell, they eventually donate it.
And a great little shopping tip we learned is that you can always ask Marshall's salespeople if they have your size back in the storeroom. Alison took us on a tour around and in the back of the store and we saw tons of recent deliveries, and more to come that day! With all that merchandise, they couldn't put everything on the shelves so some of it stays in the back, just waiting for you to ask!
Speaking of merchandise, I picked up some gold DvF strappy sandals, an awesome black designer jumpsuit and a purple and black print dress – totaling only 120 bucks!
What "shopportunities" have you discovered at Marshall's?