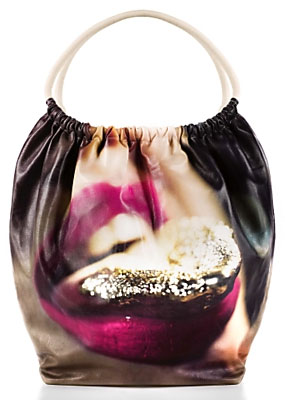 Intermix recently teamed up with provocative artist Marilyn Minter to create a limited edition tote for breast cancer awareness during the month of October. Minter (who has previously shot the Tom Ford and MAC campaigns, and is friends with Pamela Anderson, whom she also calls her 'muse') created the edgy bag which features a still image from her eight minute film, Green Pink Caviar.
Driven by her fascination with the body, the film captures female mouths licking candy and cake decorations. The screen-printed, 10 oz. cotton tote also displays a large image of a woman's mouth, and retails for a mere $48.
Proceeds from the tote will benefit Bright Pink, a non-profit breast & ovarian cancer organization dedicated to early detection, awareness and education.
Intermix CEO Khajak Keledjian: "Intermix is extremely thrilled and honored to collaborate on this project with Marilyn Minter. This gives Intermix the opportunity to work with one of the most celebrated contemporary artists today. Through this collaboration, we are able to benefit Bright Pink, which is an exceptional charity which supports breast cancer awareness, a cause that rings true with our customers".
The bag is available for purchase exclusively at all Intermix stores and also online at Intermixonline.com, only for the month of October.