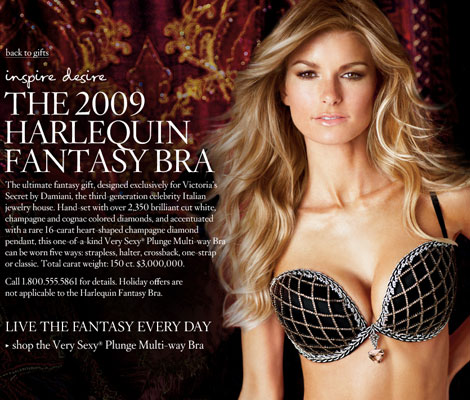 Marisa Miller is this year's lucky model to wear the world's most expensive bra. The $3 million diamond studded Harlequin Fantasy Bra is made by none other than Victoria's Secret (in collaboration with Damiani), featured in its Secret Christmas Dreams & Fantasies Catalogue and debuting on the Victoria's Secret Fashion runway show on Dec. 1.
The total weight of this baby? Well, it has a 16-carat heart-shaped champagne diamond pendant surrounded by 2,350 brilliant-cut white, cognac and champagne colored diamonds all embroidered on the VS Very Sexy plunge bra.
Want your chance to rock these rocks? You can either cough up the $3 million bucks or enter Victoria's Secret's nationwide casting call for its next Angel. Check out VS All Access.com for more details.