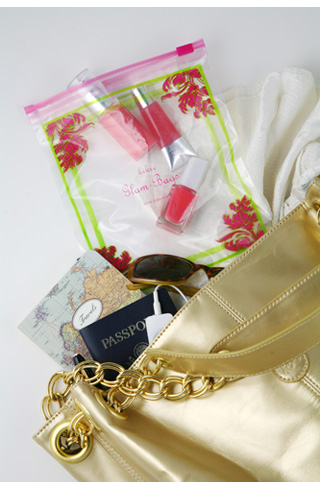 I'll start by saying that I love all things reusable. I loathe extra waste and packaging and I was really excited when I got the chance to try really pretty, reusable travel bags called Glambags.
Now, I'm not a huge traveler, but these bags are good for so much more! I started off by filling a Glambag with my cosmetics and toting it around in place of my normal cosmetics pouch in my handbag. Not only did it lighten my load a bit, but it made it so much easier to see what I was looking for in the abyss that is my purse.
For those of you that are travelers, you'll appreciate how attractive and practical these bags are. Why put your expensive cosmetics in a sandwich bag when you can use a Glambag?
Glambags are sturdy, reusable, and airline-friendly. Quart-size luxe plastic bags let you travel in style with all your favorite cosmetics, toiletries, and essentials.
Glambags come in a box of 18 for $9.95. When you think about how many times you will be reusing each bag, that is a tremendous value. I got creative and started experimenting with various uses for Glambags. I used them to organize my cosmetics cabinet, used one as a gift bag for a small present, packed my daughter's school snack in another.
I found it really handy to have a box of Glambags on hand, they are so versatile!
You treasure your cosmetics, so tote them in style with luxe, reusabale Glambags! The quart size bags are available currently, with plans for various sizes and baby bags to come. Order directly from Kiki*C.