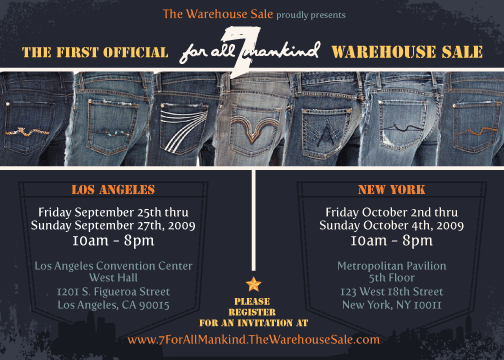 7 For All Mankind will hold its first ever warehouse sale at:
The Los Angeles Convention Center
September 25 – 27, 2009
10 a.m. to 8 p.m.
and
The New York Metropolitan Pavilion
October 2 -4 , 2009
10 a.m. to 8 p.m.
Since its launch in fall 2000, "7" denim has become both an established modern classic for its sophisticated fits as well as a leading trendsetter for its newest fashion-forward washes and designs. Stars who love Seven jeans include Kim Kardashian, Angelina Jolie, Lisa Bonet, Cameron Diaz, Jake Gyllenhaal, and Ryan Reynolds.
This is not a traditional "sample" sale. The offering will include 30,000 pieces including women's and men's jeans in all sizes as well as a full range of best selling tops, jackets, handbags, dresses & kids apparel.
Shoppers are encouraged to register in advance online to receive an invitation to the event for expedited entry. They can also register at the door.
For further information, or to register for an invitation, please visit www.thewarehousesale.com.