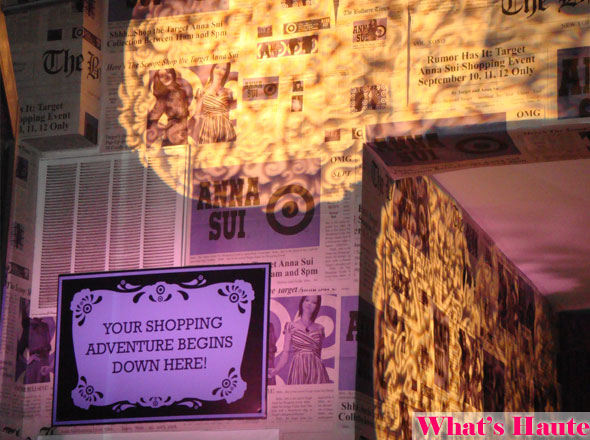 I recently reviewed the Anna Sui for Target collection so I knew what to expect upon entering the store. The store was cutely decorated in newspapers covering the walls with the headline "Anna Sui for Target". It was laid out like a closet, with each Gossip Girl character the collection was based on, grouped in separate areas. Models lounged in chairs and sofas throughout. My favorites were the "Blair Waldorf" dresses. I tried on the blue belted mini dress but it was way too big. Unfortunately by the time I arrived, all of the selection had been picked over and only mostly extra large sizes were left. So I guess I'll be picking up my pieces in Target when the collection rolls out in stores on September 13th!
In New York? Visit the store:
Anna Sui for Target pop-up store:
54 Crosby St.
Thursday, September 10th, 11 pm – 11 pm
Friday, September 11th, 11 pm – 11 pm
Saturday, September 12th, 11 pm – 8 pm
Stay tuned to What's Haute for New York Fashion Week coverage!