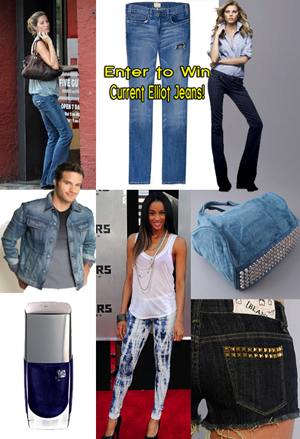 A Few Goody Gumdrops is "Currently" obsessed with our denim Giveaway….a pair of CURRENT ELLIOTT jeans from Chickdowntown. Enter to win!
What's Haute Magazine discovered some surprisingly cute denim jeans, skirts and leggings in the Max Azria & Miley Cyrus collection for Walmart. Yes, Walmart!
Bags, Bling & Beauty embraces casual, comfortable style this Fall.
Couture In The City Shows us how to get the perfect fit with denim jeans.
diva in a carry on has found just the right eyeliner and nail color to go with your fall denim in the Lancome fall collection!
Fashion Cents Reveals a staple for men this season — the jean jacket.
Fashion Fille appreciates the simple things in life- destroyed denim and vintage jewelry.
Fashion Hippo presents Jeans Celebrity Love and Where to Buy Them.
Handbag du Jour prefers the denim version of Ashley Tisdale's Alexander Wang Coco Duffle bag, a Shopbop exclusive!
Princess Dominique Dishes Fashion thinks you should rock these Coach Tawney Denim White Signature Wedges!
Quinta Trends sees South American runways looking for denim outfits
Shopping and Info loves the fit of Gisele Bundchen's denim jeans.
SomeoneSpoilMe.com Lets you memorialize your favorite denim in the Personalized caricature stationery giveaway.
The Bare Skinny wants to know if the denim legging trend is fierce or foolish.
The Fashionable Housewife is excited about New York & Company's Buy 1 Get 1 FREE Pants Event! This fabulous event ends 8/26, so hurry!
TheFind Blog trendspots this season's hottest denim embellishment – the "Pyramid Stud", will you BUY OR D.I.Y.?
Unfunded takes a hint from Nylon Mag and gets some patched up denim.