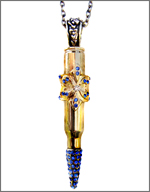 No matter what your political stance, we all have to have hope that something good will come from war, whether or not we believe it to be necessary or unnecessary. Designer Rafi Anteby used his experience serving four years in the Israeli army to create tangible symbols of peace through his jewelry line, Bullets 4 Peace.
After losing all the men in his platoon including his best friend, he was sparked with a desire to use bullet casings that lay in the fields for a much deeper purpose than just being used as ammunition. Rafi then spent two years in China to become a monk where he also learned the ancient arts of Kung Fu and Tai Chi. Kung Fu taught him the concept of giving before you take ("or ying before yang and yang before ying"), which is what sparked his inspiration to create and launch the line.
Bullets 4 Peace takes used bullet casings, which are meant to be recylced and reused in streets and battlefields, and turns them into beautiful jewelry pieces that promote peace and compassion. Each piece represents a different charitable organization, and features silver, gold and crystal details. Celebrity fans include Justin Timberlake, Eva Longoria, Kanye West, Jessica Biel, Audrina Patridge, David Archuleta, and Quincy Jones.
Check out more of the line at http://www.Bullets4peace.com.