UPDATE (8/7/09): The winner is Jenny S. from Kitchener, ON. Congrats to Jenny and thanks to all who entered! Stay tuned to What's Haute Magazine for more awesome contests and giveaways!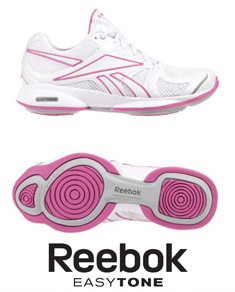 So I've been wearing my Reebok EasyTone sneakers for about a month now and I have to say my legs are looking more fabulous than ever! Of course I can't give all the credit to the shoe – I have been exercising more – but the EasyTone's have certainly played a huge part in helping me do that.
As I mentioned before, the shoe is great for walking and running, cardio as well as every day wear. It's comfy and designed to tone no matter what activity you're doing. Reebok incorporated some pretty innovative footwear technology that helps to "tone as you go". I love that I could get an extra workout just by wearing these shoes and doing my usual activities.
One lucky lady will win a pair of these haute new shoes. Simply leave a comment telling us about your 'on the go' workout routine and you'll be automatically entered to win your own pair of Reebok EasyTone sneakers!