In my quest to achieve 'the flawless face' I've been sampling a lot of new products; and I think I've come across some winners! It is important to get your face primed for make-up. What that means is to utilize your skin care to get your skin even and hydrated to facilitate flawless make-up application. There are a lot of products that can help you achieve this.
Flawless make-up starts with good skincare habits, and I was very impressed with Patricia Wexler's MMPi.20 Skin Regenerating Serum. Use this serum after cleansing your skin to diminish the signs of aging, combat the damaging effects of 20 different enzymes that cause skin to wrinkle, and visibly tighten your skin. The serum is a very appealing smooth pink gel, with a matte texture to it. It glides on the skin like silk, and almost immediately gave a smooth, even texture to my skin. I wore it overnight, and by morning my skin was soft as silk, and blemishes were visibly diminished. I was very pleased with this serum and I continue to use it nightly. Purchase it at Bath and Body Works.
I was surprised to learn there are actually products aimed at mattifying your face. You apply it as a pre-make-up base, and it leaves a matte, smooth finish to your skin. I tried Clarins Instant Smooth Perfecting Touch
. This product is really great! You apply it to your face and it fills in any large pores, wrinkles, lines, etc, leaving your skin smooth and ready for flawless make-up application. This make-up base leaves your skin very matte and soft as silk. I've been incorporating it into my make-up routine more regularly. While I don't think this step is a must, it is a nice product to have on hand when you really want to 'go all out' with your make-up. You can even mix it into your foundation. Purchase at Sephora.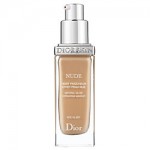 Moving onto foundation, I think I have found my holy grail of foundations! I received a sample of Dior Diorskin Nude Foundation
, and I am absolutely in love with this product. It is water based, glides on like a light gel, and yet provides incredible coverage. It's rare I find a foundation that doesn't need powder to set it, but I think I found it in this product. This is a must-have for summer. It is so light, but with exceptional coverage and it has a mineral base that is designed to improve your complexion the more you use it. Oh, and did I mention it has SPF? I highly recommend going over to a Dior counter to try this. Or take my word for it and order it from Sephora.
If you've followed my steps so far, then you very likely have a flawless face right now, however, if you are looking for that final touch, look no further than Trish McEvoy
Mineral Powder Foundation with SPF 15. Very light, and perfect for sensitive skin, this product is a sunscreen, powder, and foundation all in one. I have used it on its own, or over foundation and it left my skin gorgeous, matte, and vibrant. The ingredients are soothing, natural, and long-lasting. One application will last you throughout the day and night. If you're using the Trish McEvoy make-up planner I previously reviewed, then you'll love this powder foundation, as you can just place it onto one of your pages for easy portability. Purchase at Saks Fifth Avenue
.