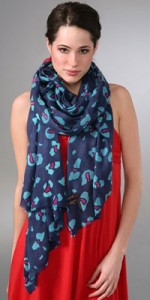 It's April so that means the weather is totally unpredictable. One day sunshine, the next – showers. So how in the world is a girl supposed to get a grip on Spring fashion? The answer is one simple, versatile accessory.
Pick up the accessory of the moment – the neck scarf. It comes in tons of colors and styles – scrunch up a gauzy one for a neck decoration, or drape a fringed version to take the place of your necklace. My pick is the YARNZ Bright Leopard Scarf
. With a trio of navy, pale blue and magenta shades, this 7′ leopard-print gauze scarf looks effortlessly chic with its frayed ends. Made of 70% cashmere/30% silk, it's light and airy and has the ability to transform any outfit from blah to wow.
Scarves are oh-so-hot and this boho-chic style is the perfect accessory for any woman.
$165, shopbop