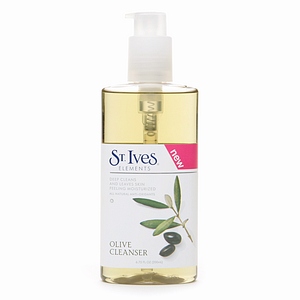 We are heading into spring, however it's still that transition period where it is often cold, rainy and windy. It is a good idea to baby your skin a bit as the weather changes so you can make any adjustments in your cleansing and moisturizing routine.
I recently had the chance to send a bunch of questions over to Dr. Marsha Gordon, a dermatologist from the St. Ives skin care company. I wanted to share her replies with you, as these are great responses to very common skin care questions. If you want to purchase the St. Ives products she recommends, you can find them at drugstore.com and if you wish to read more of Dr. Gordon's great skincare advice, click here.
What's Haute: What do you recommend to combat winter dryness?
Dr. Marsha Gordon: To combat winter dryness I place a large shallow bowl filled with water on the radiator. The dry heat of the radiator evaporates the water, humidifying the room. In addition, the tried and true method of washing with a mild, moisturizing body wash followed by pat drying and the immediate application of a rich moisturizer is a great way to seal in moisture. Lastly, I recommend applying a moisturizer both morning and evening during the cold, dry months.
WH: In the interest of saving money, more women are looking to create a spa experience at home. What products do you recommend?
Dr. Gordon: Try drawing a warm bath and soaking for 10 or 15 minutes, followed by an invigorating scrub with one of the St. Ives In-Shower Exfoliating Body Polishes. The Oatmeal and Shea Butter Body Polish is an especially moisturizing choice. When you have time, dim the bathroom light bulbs, light a candle and put on your favorite music to create an even more relaxing experience.
WH: How can we keep our skin younger looking longer?
Dr. Gordon: Avoid sun and smoking. They are two huge enemies to young looking skin. Since our skin is often a reflection of our general health, be sure your diet includes fruits and vegetables, high quality low fat protein and not too many sugary sweets. Also, try to find time for sufficient rest and exercise.

WH: How often do you recommend exfoliating?
Dr. Gordon: The answer depends on both the sensitivity of your skin and the product you exfoliate with. In general, exfoliated skin should feel smooth and soft, not inflamed and tender. Less is more. I recommend the St. Ives Elements Microdermabrasion Scrub, which is mild enough for most people to use daily.
WH: What skin concerns to women come to you with the most?
Dr. Gordon: The two most common concerns are skin cancer or a changing mole and aging skin. Since both skin cancer and aging skin are, in part, caused by sun damage, I recommend using a sun protection product, like the new St. Ives Elements Mineral Moisturizer, on facial skin every day.
Special thanks from What's Haute to Dr. Gordon and St. Ives for the interview!
—
For as long as I can remember, I've been obsessed with stories of entrepreneurs – from how they got their start onto the path leading to where they are now. I especially love to read stories of women who saw a need and acted on it to fill a void in the marketplace. As such, I've decided to create a space to showcase women entrepreneurs on What's Haute, called 'Women On Top'.