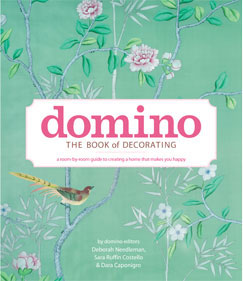 Another mag bites the dust. But even though Domino will no longer publish its glossy, you can still get your stylish decorating fix on with their book, Domino: The Book of Decorating: A Room-by-Room Guide to Creating a Home That Makes You Happy
. Domino editor-in-chief Deborah Needleman says The Book of Decorating was devised to "demystify and democratize decorating." This 271 page book is like Lucky Magazine but strictly for home fashion and decor. It is filled with vibrant full-color photos, guides and shopping strategies to styling your personal space, from the bedrooms, to bathrooms, living, dining rooms and even entryways. Live in an apartment? There are even expert tips and tight-space solutions to enhance your smaller space. The book concludes with "The Big Black Book" – a "where to buy" guide of items by category and price. Click here to read more about the book.
Want to win? We've got two to give away, courtesy of Simon & Schuster! All you have to do is subscribe to What's Haute Magazine. That's it – you'll be automatically entered to win. Contest ends at 11:59 pm on April 15, 2009. Winner will be announced shortly after. In the meantime, visit DominoMag.com for even more decorating tips and tricks!
Don't worry, we won't spam you. We hate junk mail too. 🙂