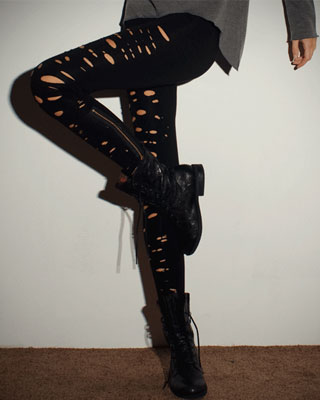 Our friends over at A Few Goody Gumdrops are hosting another haute giveaway! They have partnered with Singer 22 to give one lucky reader a pair of LnA Ripped Zipper Leggings in Flat Black – a Singer22 Exclusive!
From A Few Goody Gumdrops:
To win these oh-so fashionable leggings, visit Singer 22's website and tell us what accessories you would wear with these leggings for a haute look! A Few Goody Gumdrops will pick the winner and Singer 22 will send the leggings directly from their office to you. So, go right over to Singer22's website and accessorize these leggings. You could be the winner of these new LnA leggings.
Singer22 is one of the fashion industry's leading retailers with top brands worn by today's biggest celebrities such as Nicole Richie, Ashley Olsen, Paris Hilton, Katie Holmes, Lindsay Lohan and Angelina Jolie just to name a few. Singer22 has evolved into one of the fashion industry's leading retailers and source for the latest in fashion trends. Husband and wife team, Alicia & Jonathan Singer created this truly cutting edge and unique website which has gained tremendous notoriety since it was first launched. One of our favorite shopping sites!
The giveaway will run until 3/18/09. Don't forget to leave your email so if you are the winner A Few Goody Gumdrops can contact you. Good luck!
Can't wait for the giveaway? Buy them now for $129 at Singer 22.