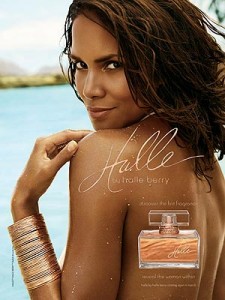 The 42-year-old Oscar-winner is the latest celebrity to launch some sort of licensed consumer product. Typically celebs push branded clothing or footwear lines, jewelry collaborations, handbags or perfumes. Halle's pushing the latter.
Her self-titled perfume, Halle by Halle Berry, was designed to "reveal the woman within". The fragrance was launched in collaboration with Coty and apparently was two years in the making. Promotional ads featuring Berry on the beach recently ran in Essence magazine and the scent itself will be available at Kohl's, Sears and J.C. Penney stores later this month. It is a mix of woody and Oriental, "meant to evoke memories of the beach", with notes of Sicilian bergamot, freesia, mimosa and sandalwood.
Says Halle on her fragrance:
"[Before my fragrance] I was mixing other brands that shall remain nameless to make my own scent with fig and mimosa. With Halle, I added olibanum, which is an African root, which brings spice to the fragrance, and sandalwood, which smooths everything out and makes it yummy. It's very sensual, very natural, very much reflective of the outdoors."
Will you be wearing Halle?