It's no secret that the luxury industry is hurting; however, people should look beyond a luxury piece of jewelry as a fashion statement only. Even being an owner of online diamond boutique, Whiteflash.com, is difficult because people view jewelry as fashion only. Jewelry can also be viewed as an "investment", especially luxury timepieces. Luxury timepieces are viewed as something to keep in the family. From personal experiences, I know men usually pass down their watch to their son, and then he passes it on to his son, and so on. Try not only view timepieces as fashion item, but as investment piece that may stay with you and your family for a while.
Francois Thiébaud, president of the Swiss Exhibitors Committee and president of Tissot watch worldwide, said one good thing coming out of the financial crisis is "the return to traditional values" in watch making and selling, by both consumers and watchmakers. "There's less extravagance, less emphasis on price and more on craftsmanship," he said in an interview in JCK Online.
In addition, brands spend a lot of time investing their in labor and finding the right materials to make their watches desirable to consumers and retailers. The best raw materials are used and some of the most durable metals are fined tune to ensure the piece's durability from generation to generation. Also – it takes time to find that one "unique" factor to make watches stand out in the luxury market. However, few achieve this uniqueness. Here are some great pieces that I have come across:
Perrelet's Tourbillon watch (above) is a true example of fine watch-making. A masterpiece as an exceptional article. Remaining true to the aesthetic lines that characterize the brand, the Tourbillon presented by Perrelet pushes back technical limitations to their extremes, translating the mastery and creativity of the brand into reality.
One watch on the market that I have noticed, and definitely admired is Christian Tse's digital watch covered in shimmering diamonds. While the white diamond watch with the white stingray strap is stunning and elegant, I find myself drawn to the python print watch, covered in natural color diamonds. The shades of champagne colored natural color diamonds are a refreshing visual on the python print watch. In addition, the champagne diamond encrusted watch is so unique, yet still very versatile. With the digital time glowing through a blanket of diamonds, this watch is definitely one of the ultimate luxuries I have come across!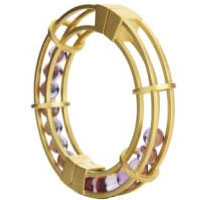 Not quite a luxury timepiece, but I am a woman and this story is about investing in jewelry. Plus it just caught my eye. It's a bracelet designed and created by Yael Sonia and made of 18K yellow karat gold. I wanted to show this off as it would compliment any outfit and look great next to a small wrist watch. And I would definitely pass this down to my daughter. It's that beautiful.
So whether you're a fashionista trying to be more budget conscious, a watch connoisseur or just a luxury fan, spend your money wisely. Don't only buy something because its an "it" item, but think about your purchase. Inspect the quality and the timeless appeal. You're spending big bucks on an accessory, make sure it something that you want to keep "in the family."
Source: Perrelet's Official Web Site/Christian Tse associated with Natural Colored Diamond Association/Yael Sonia