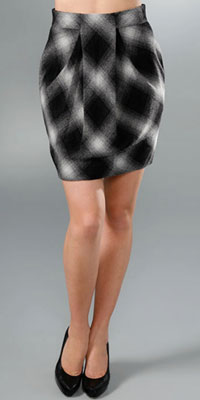 You don't have to be a student at Constance Billard School for Girls to wear a plaid skirt.
Sure it's standard uniform for Blair, Serena, and the other girls of the Upper Eastside high school set. But a chic plaid skirt can be worn at any age. The Robert Rodriguez Plaid Skirt
is for the more sophisticated set. Made of a wool/nylon blend, the skirt features a black, white and grey shadow plaid print. The plaid skirt is given a contemporary spin with a single thick front pleat and on-seam hip pockets. The slim tulip silhouette hides hips while accentuating curves and the just-above-the-knee hem gives length to legs
Give those Upper Eastside girls a run for their money.
shopbop.com
, $102.30