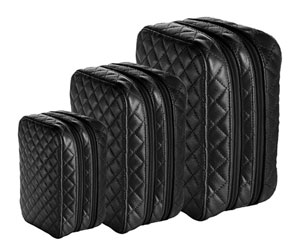 As a self-proclaimed makeup addict, I probably have more cosmetics than I need. I currently store it all in a large train case, which is wonderful for organization, but not the easiest to access every time I need a touch-up. I recently went looking for a more portable solution, and I came upon the Trish McEvoy Deluxe Planner Makeup System
. It is exactly what I have been searching for, and I wanted to pass on the info to fellow make-up lovers.
With Trish McEvoy's planner system, you buy the planner, which come in a few different sizes, depending on your needs, and then you create makeup 'pages'. I chose the petite-sized planner, as it is not too small, but still able to fit nicely in my handbag. There are a variety of colors to choose from, and they all have a two-ring binder inside, as well as cute pockets for brushes and sundries. I felt so excited just purchasing the planner, as I now had portable makeup within my reach.
I went to Nordstrom to create my first makeup page. Trish has these really cool black cases, that have holes to accommodate being set into the binder in the planner. You then choose all your own colors and all the make-up is magnetic and sticks right into the page. It is totally refillable too! You can create a page of powder and bronzer, another page with eye shadows
and definer, and yet another with lip colors. The combinations you can create on a page are endless, and it was a lot of fun to get started.
If you are interested in this makeup planner (which you should be!), you can check them out at Nordstrom. Seasonal, petite refillable makeup pages
are available often, which affords you all the colors to make a particular look. The planner system is so ingenious, I keep wondering why I didn't get one sooner!