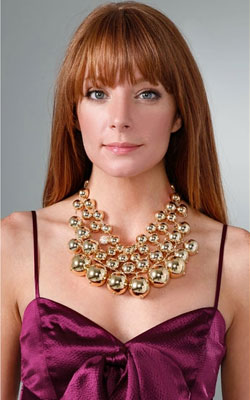 Holiday decorating usually consists of hanging lights, tinsel and ornaments on your tree. But that doesn't mean you should exclude yourself from the party.
Decorate your neck with the Lee Angel Jewelry Judy Bib Necklace
. This beautifully beaded 18.5″ necklace consists of four rows of graduated gold-plated beads. An off-center pave bead adds sparkle to the mix and a ring clasp keeps it securely around your neck. Wear this statement piece with a low-cut top to adorn yourself with this spectacular bauble!
$242, Shopbop