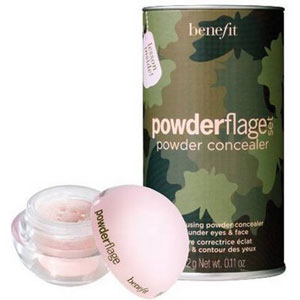 Watch the news and you're bound to see someone involved in a cover-up. From politicians to celebrities to your average Jane – everyone's got something to hide.
Benefit's Powderflage
was specially created for the woman who's got a little something to hide – on her face, that is. Wrinkles, fines lines, and dark circles don't stand a chance with this light and silky pink powder that diffuses into your skin to camouflage those minor facial imperfections. The "flager" brush conceals and covers-up in only two strokes! You can use the powder alone to lighten and brighten your face, or over foundation, concealer or other makeup for an extra dose of coverage.
So leave Benefit's Powderflage to the facial cover ups. The other's are up to you.
$28, Benefit Cosmetics