Coincidentally, on the eve of the Project Runway Season 5 finale, I attended another fashion show competition/finale at Lotus Space in New York. While Project Runway searches for the next great American designer, last night's design contest, sponsored by My'It'Things, was on the search for America's next 'It' designer.
The three finalists, Nora Del Busto, Wakana Koike, and Adolfo Sanchez, were previously selected by voters and a panel of industry judges. Armed with $1,500 and a few months, they each created a 5-piece capsule collection, while blogging about the design process. They presented their final collections last night.
Sanchez's collection was 'soft and angelic'; dedicated to a relative who recently passed away. The color palette consisted of earth tones like caramel brown and light pink. Silhouettes included fitted dresses and separates, like high-waisted pencil pants and corseted tops (modeled by Jaslene Gonzalez of America's Next Top Model). The collection had a vintage-'40's feel.
Nora Del Busto's collection was inspired by a recent trip to Peru and based on Peruvian costumes and colors. The vibrant looks consisted of fuschia, turquoise and purple colors, set against jet black, and silhouettes were very feminine. Ruffled skirts dominated the looks, along with fitted separates like pleated shorts and halter tops.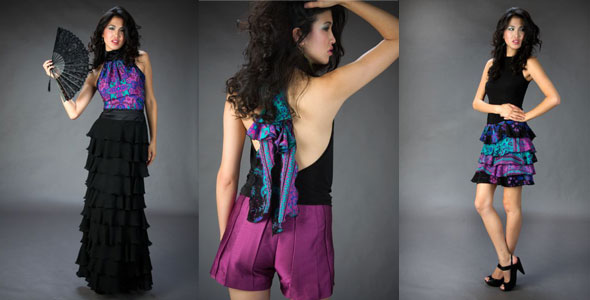 Wakana Koike presented a nautical-inspired collection, with marine touches like rope cords and printed fabrics full of oceanic motifs. Blue skies, puffy white clouds and colorful sailboats dominated the fabrics and the silhouettes were breezy and airy. Sailor uniforms were incorporated into the designs and full tops and dresses were cinched with sailing ropes and cords, and detailed with sailor-style buttons and cuffs.
Wakana Koike was ultimately named the winner by the panel of judges, including fashion designers Malan Breton, Keither Lissner and other industry experts Greg Littley, Kathlin Argiro, Hitha Prabhakar, Nathan Cooper, Sheryl Berk and My'It'Things Editor-in-chief Yuli Ziv. Koike was awarded $5,000 toward the production of her Spring 2009 line which will be sold on MyItThings.com.