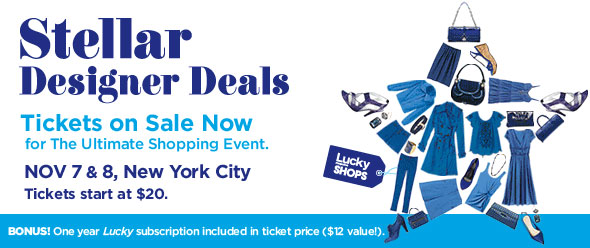 It's no secret that I'm a shopaholic, bagaholic, shoeaholic, etc. Living in New York is my excuse. I mean there are stores everywhere; you literally cannot escape from shopping! So, to make myself feel better about my shopping/spending addiction, I love to hear about special deals, sample sales, shopping events with a bunch of discounted designer items. I went to Lucky Shops for the first time last year and vowed to return year after year. Why? I got tons of designer stuff at amazing prices. For instance, I purchased a brand new Devi Kroell Tiffany shoulder bag for close to 80% off the original price! A pair of Michael Kors shoes and several designer clothes also followed me home.
With the holidays coming up and the economy suffering, Lucky Shops is just what we shopaholics need. The 2008 event promises even more discounted shopping fun – up to 70% off retail prices! Virtually every designer ever seen on the pages of Lucky Magazine will be showing their current and off-season items, so you can shop a wide range of designers like handbags from Devi Kroell, Kooba and Rebecca Minkoff; footwear from Havainas and Nine West; jewelry from Bing Bang, and Lauren Wolf; and haute apparel from See by Chloe, Mara Hoffman, Cynthia Rowley, and so much more!
Get your tickets here before they sell out. You won't want to miss this haute shopping event!
Where:
Metropolitan Pavilion
125 West 18th Street (between 6th and 7th Avenues)
New York, NY
When:
VIP Shopping Party • Thursday, November 6 • 6PM -9PM $250
First Dibs Friday: November 7, 10AM – 7PM, $35
Saturday Shop-a-thon: November 8, 10AM – 5PM, $20
Cocktails served Friday 3-7 pm and Saturday 1-5 pm. Must be 21 years or older.