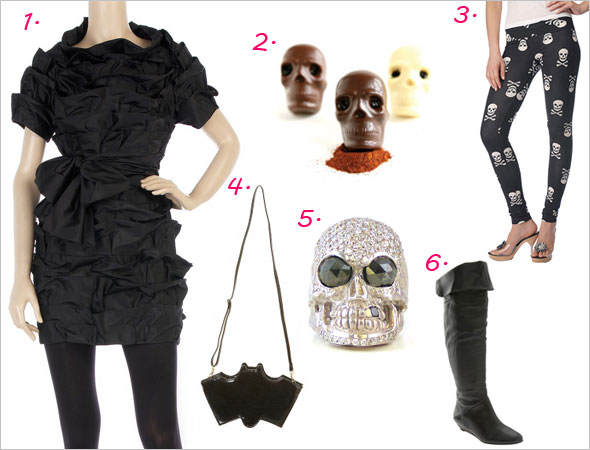 Halloween might be a scary holiday but that doesn't mean you have to sacrifice your style. Rock a black ruffled dress, carry a bat as a bag, and sport skull couture while wearing witch-inspired boots. Then treat yourself to some 'Hallowed' chocolate treats! Shop the look:
1. Moschino Upside down ruffle dress
, Net-a-Porter
2. Day of the Dead Blanca Skulls, Vosges Chocolate
Special offer from Vosges: Take 10% off all website purchases from Nov. 1st to Nov. 30th. At checkout, enter promo code 2810WB1.
3. Skull Cotton Lycra Ankle Length Leggings, Betsey Johnson
4. Bat X-Body Bag, Topshop
5. Loree Rodkin Diamond Skull Ring
, BlueBee
6. Steven by Steve Madden 'Insayne' Boot
, Nordstrom