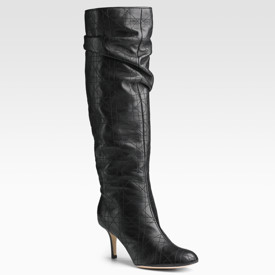 This week everyone is veering to the side of practicality. Let's face it, a good boot will cost you a good bit. There's nothing sexier than a woman in a knee high black boot, and nothing more irritating than an
expensive boot that sits in your closet because you can't walk in it.
That's why these Dior Cannage Boots
are my pick of the week. Not only are they drop dead gorgeous, they sport a 2.3/4 inch heel that you can actually walk, run, stand, or prance to work in and then out to dinner. The ever so slight slouch on this boot is just loose enough to make the leg look slim and still classy enough to suit up in. The best part is the padded insole, the secret to having a smile on your face at the end of the day.
Here's the boot that won't make you lay awake all night with buyers remorse.