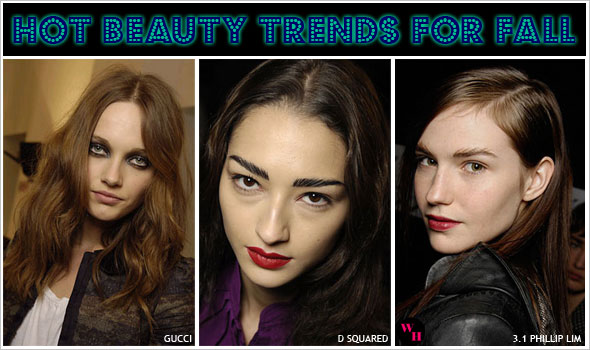 As the fashion world buzzes with the excitement of Fashion Week, it is also the perfect time to rev up your make-up. Start by trying out one of the new beauty trends showing up in all the magazines and on the runway. As many big name department stores run their beauty bonuses at this time, pick one (or many) new looks as we say goodbye to summer and hello to fall.
One of the hottest beauty trends for Fall 2008/Winter 2009 is the smoky eye look. While best reserved for evening, the smoky eye is one look that looks good on everyone. The smoky eye is very dramatic, and may take some practice, but there are tons of great products out there to give you a helping hand. One great set to try for achieving the smoky eye look is the Black Eye Set Makeup Kit by Nars. This set gives you everything you need (including instructions!) to create this hot fall evening look. Smoky eyes are best paired with a neutral lip.
Another hot fall beauty trend brings us back to old Hollywood with the sultry red lip. Pack up all those glosses you were wearing this summer, and shop for a deep, matte shade that enhances your skin tone. Two popular, long wearing reds to try are Ruby Woo and Russian Red by M.A.C.. It's best to let your lips take center stage when wearing red, so keep your eye makeup neutral.
Remember Brooke Shields' gorgeous full eyebrows? Well, big eyebrows are back! Whip out your eyebrow brushes, purchase a new eyebrow pencil, and put away your tweezers. The chiseled thin arches that were so popular are now giving way to fuller, thicker, darker eyebrows. A great, and affordable product to keep your brows looking their best is the Sephora Brand Eyebrow Palette 01
. The set includes two shades of brow powder for shaping and filling in brows, as well as a brow wax to hold your brows in place after grooming.
It is always a fun time of year when new looks are revealed. As we pack up our summer bronzers and lip glosses and shop for new fall looks, remember it is also a great time to experiment! Visit your favorite cosmetics counter and have a make over. It's a great way to get the newest look, and a great mood booster as well!