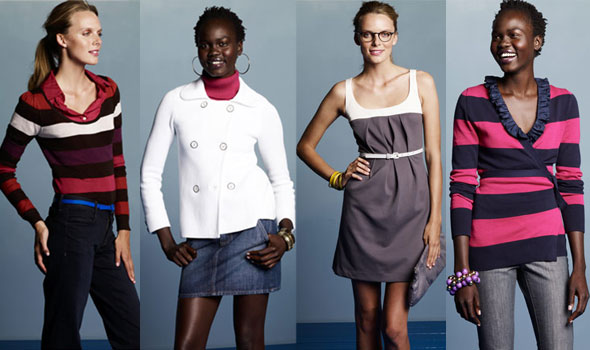 Ever since its launch in 1994, Old Navy has become one of my die-hard fashion staples. When I'm in need of the basics, like jeans, sweaters and tees, I shop Old Navy of course. Where else can you find high-quality classic pieces for a steal?
I recently received a sweater to review from Old Navy's fall collection. The sweater, a purple wide-trim cardigan, is a soft, cotton/polyester/rayon blend that feels so cozy I've already fallen asleep in it several times! The color is the perfect shade of purple – a rich and vibrant hue that is straight off the runway. And the style is just right for layering everything from t-shirts and oxfords underneath. I have to admit that I've never really been a fan of cardigans, for fear of looking too much like Mr. Rogers, but Old Navy knows its sweaters and this one fits perfectly and helps me maintain my femininity and sense of style without making me look like I belong on PBS!
I'm excited to shop Old Navy this season for their cute classics I've come to love. Since I've fallen in love with my purple cardigan, I'll be snatching up a few more in different colors. This sweater is sure to be one that I will use for years to come, just like all of the other Old Navy sweaters and jeans in my closet! I've also got my eye on that grey and white ruched tank dress, as well as that oh-so-comfy cable knit cape!
You can check out more of Old Navy's September collection on Old Navy.com. Click the thumbnails below to see a preview of what's in store for October.