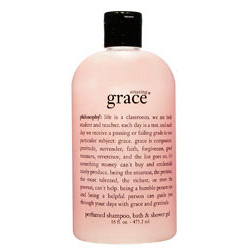 I've always heard people mention the wonderful Philosophy products, but I'd never tried them first-hand. Just recently, I began using the perfumed Philosophy Amazing Grace Bath, Shampoo & Shower Gel
. I am now wondering why I waited so long to try this. This really is amazing! And I'm not the only one that thinks so. This product was selected as one of Oprah's favorite things in 2005.
Not only does this silky liquid triple as a shampoo, shower gel, and bubble bath, but it leaves your body (and your mood) feeling great! The scent is unique, feminine and very subtle. You will catch a hint of it throughout the day and it is very uplifting. It is very moisturizing, and does not create a lot of suds. You can feel it soaking into your skin as you wash with it. Perhaps the best thing about Amazing Grace is that it is enhanced with natural milk proteins, so even the driest, most sensitive skin and hair will be soft and silky.
The fact that Amazing Grace is a multi-tasker makes it a great item to bring with you on your travels. It'll also free up some space in your bathroom, as you won't need separate shampoos and body wash. A great way to enhance the delightful scent is to layer it with other Amazing Grace products, like the Amazing Grace firming body emulsion, or the spray fragrance.
$22, Sephora.com