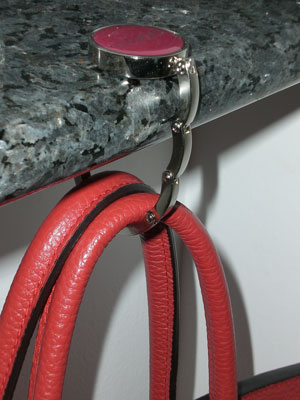 You just shelled out (enter exorbitant amount here) for that new 'It' bag. So when dining out at that hot new restaurant, you certainly don't want to set your bag on the floor (eww, germs) or hang it on the back of your chair (unsafe). What's a handbag-ista to do?
ClipChic by Stylagio is the must-have solution to your dilemma. It's a sleek, compact purse hook that keeps your bag secure, and off the floor. And the expandable/collapsible, lightweight design makes it easy to tuck it into your purse later. Do your bag a favor and hang it on a ClipChic!
Want to win one? Enter your most creative ClipChic slogan in the comments section to get one of your own!
For immediate gratification, order now and receive 20% off and free shipping with code 'WHATSHAUTE20' (no minimum order, valid until December 31, 2007)
$19.95, Stylagio