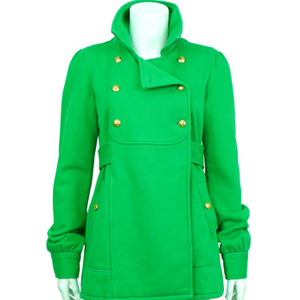 These days it's all about going green, from electric cars to hemp handbags. Even though you may not be into environmental causes, you too can go green.
The Le Tigre green pea coat is a vivid Fall coat. Made from cotton French terry, the puff sleeves and heart-trimmed interior give it a light, fun feel. The gold buttons can be buttoned on either side. Pair it up with a colorful scarf or funky hat to brighten up those blah Fall days. Click your mouse on over to Fred Flare before it sells out!
And then you can get back to saving the environment.
$150, Fred Flare