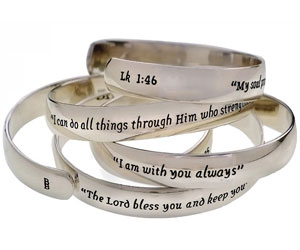 Wear the Word on your wrist.
Driven by relatives whom she wanted to encourage, Jaqueline Baron created Bible Bangles, jewelry that combines fashion and religion. Sterling silver, 14K and 18K gold bracelets are inscribed with popular verses from the Bible. Each bracelet is named after special people in the designers life; those who have inspired her.
Stack them up for daily doses of inspiration.
$59.95, Bible Bangles