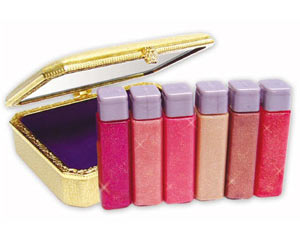 I'm feeling gilt-y already.
A precious gold box, lined in a regal purple, with a self-indulgent mirror, encloses an array of gleaming precious metals. The 'Gilt Trip' lip gloss set by Tarte contains six, shimmery, gold-speckled lip glosses to add shine to your holiday season, as you travel from one party to the next. Colors like Golden Champagne, and Golden Peach, will take you through the pre-party; Golden Red and Golden Magenta escort you to the party; and save Golden Reddish Bronze and Golden Pink for the after–party.
Where you'll probably have something else to feel gilt-y about.
$28, Tarte