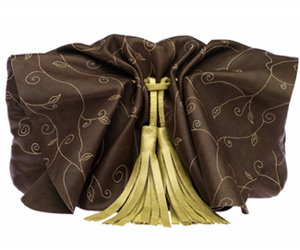 'Expect to be noticed'.
That's the tagline for Susan Farber's Collection. Full of Italian flair, Farber's handbags are crafted of the finest Italian leather, exquisite details, and rich colors. The 'Mezzo Sofia' is a gorgeous, chocolate brown ruched leather clutch with adorable acid evil leather tassels. A dainty vine print paints a pretty canvas atop the centrally gathered leather.
It's a small statement piece, but it's sure to get you noticed, big time.