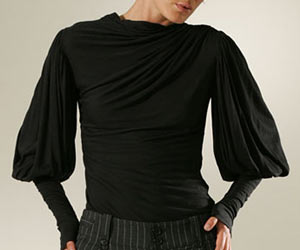 Rachel Roy is the epitome of femininity. Her Jackie–O–meets–Victorian–elegance style always looks just right.
Her collection embodies her personal style as well. A romantic bodice, extravagant ruching, and over-embellished puffed sleeves make up the 'Layla' Long Sleeve top as well as the rest of her eponymous collection. Paired up with short shorts or a full skirt, this top is a versatile, modern classic.
Like the designer herself.