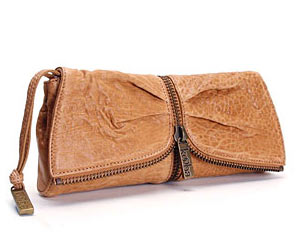 The Sienna, the Mischa, and the Scarlett – Kooba's sacks are both celebrity namesakes and celebrity darlings.
Typically rugged, and expertly studded, Kooba bags bring a certain edgy sophistication to any outfit. This simple, unembellished clutch is bound to be a new dear in Kooba's collection. The 'Audrey' features a bow-shaped flap that flirts with a strategically placed zipper, symmetrically dividing the flap, and bag in two. Distressed camel colored leather and signature hardware toughen up this little charmer.
Make way for the new gal in tinseltown.
$285, Kooba