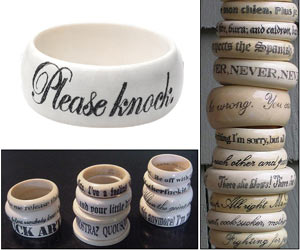 You've always got something to say.
Whether at work, amongst your friends, or to your mom, you always share your opinions; wanted or not. These bracelets were made for you. Jessica Kagan Cushman's 'Wide Scrimshaw' bracelets say what you mean, and mean what you say. Made of pre-ban, antique ivory, the cream colored bracelets are covered with engraved phrases, quotes, and graffiti, like 'Please Knock!', and 'Never, Never, Never'.
Forget a picture. These bracelets speak a thousand words.
$1,250, Barney's Co-op.