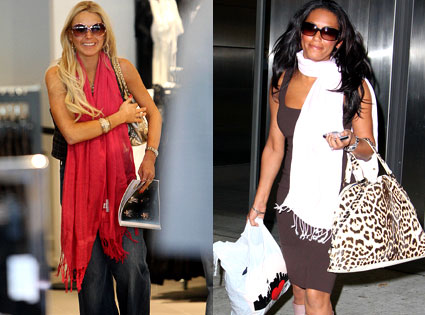 The super-sized scarf is a celebrity-fave and the perfect day-to-day accessory. With this year's screwy seasons, a scarf can be worn from spring well into summer and right back into fall and winter. Celebrities don't leave the house without a scarf – either worn loose and long or snugly wrappped and knotted around the neck. Their fave? Love Quotes scarves. Lindsay Lohan and former Spice Girl Melanie Brown (aka Mel B.) are fans, along with Hilary Duff, Lauren Conrad, Jessica Alba, and Nicole Richie all wear Love Quotes.
Made of Italian linen, Love Quotes scarves are soft and light, and they come in every color of the rainbow. They look great and even make you feel good inside: 10% of the proceeds are donated to international children's charities, and each Love Quotes scarf is accompanied by an inspirational quote to wear around your neck! Click here to buy Love Quotes scarves.
Also, September is Thyroid Cancer Awareness Month. Protect your neck! Thyroid cancer is one of the few cancers that has increased its incidence rate over the past several years. About 25,690 people will be diagnosed with thyroid cancer in the U.S. in 2005.
The Thyroid Cancer Survivors' Association, Inc., is encouraging people to ask for a neck check the next time they visit their doctor. Signs to discuss with the physician include a lump or fullness in the neck, lymph node swelling, difficulty breathing or swallowing, or voice changes.
When detected early, most thyroid cancers are treatable. Early detection is the key to improving outcomes. Patient and caregiver education is also important, because thyroid cancer requires lifelong monitoring as recurrences can occur decades after treatment.
Free brochures and support services are available from ThyCa: Thyroid Cancer Survivors' Association, an all-volunteer, non- profit organization of thyroid cancer survivors, family members, and health care professionals, dedicated to support, education, communication, and thyroid cancer research fundraising and research grants. For more information, call 1-877-588-7904, fax to 630-604-6078, send e-mail to thyca@thyca.org or visit www.thyca.org.