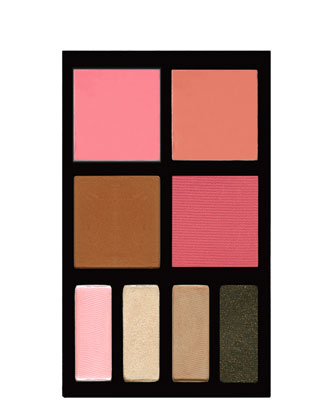 Last month I reserved a spot at a Master Class taught by Trish McEvoy Cosmetics. The class was aptly called 'The Power of Make-Up' and it was a very appropriate title for such a wonderful class. It was a very small, informal group of women of all ages, led by Connie Lewis of Trish McEvoy Cosmetics. There was a lot of personal attention, with one make-up artist for every two women. I eagerly volunteered to be the demo, so I got to sit at the front of the room and Connie personally worked with me.
To start, we learned what our make-up levels were. For those new to Trish McEvoy, the make-up levels are 1, 2, or 3, and correspond to how in-depth you want to go with your make-up. I am proud to be a level 3! I love to use multiple products for each area of my face.
Next we started on eyes, and learned a great tip for summer. Use Trish McEvoy's Eye Base Essentials
, follow with a darker shadow in the crease, a little liner, and you're set! It is a very neutral look, and really easy to do. For us level 3's that love to try new products, there is this amazing gunmetal liquid liner that really takes your eyes up a notch. Follow with mascara and you have a day-into-night look that will let you stand out from the crowd.
Connie taught us to do our eyes first, and then concentrate on the rest of our face. While this is so foreign to me, it does make total sense. If you do your face first, you can have particles from shadow or mascara falling onto your face. Avoid having to do any touch-ups by switching up your make-up routine. Something so simple can really help you achieve the perfect look!
All of these tips and more are available to you at your local Trish McEvoy make-up counter. And very often there will be classes available at the different department stores. I thoroughly enjoyed this class, learned a lot, and had fun and walked away looking like a million bucks. If you get the chance to sign up, I know you'll love it too. In the meantime, purchase Trish's new Limited Edition 'The Power of Makeup' page (for your planner!) in petal pink at Neiman Marcus.