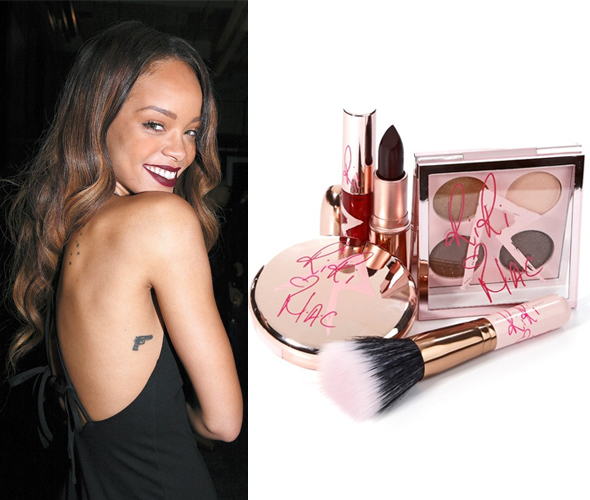 It's been a busy week for Rihanna! The singer first stole the show at London Fashion Week when she debuted her 'Rihanna for River Island' fashion line. And today WWD revealed her latest deal which she calls a "no-brainer": a collaboration with cosmetics brand MAC on four makeup collections called 'RiRi [Hearts] MAC', that will roll out later this year.
Her first product to launch will be 'RiRi Woo' lipstick, inspired by her favorite MAC red lippie, Ruby Woo. The release dates are the same as her Diamonds Tour concerts at the Barclays Center in Brooklyn – May 4 and 5. There will be a MAC pop-up shop on the first night where you can be the first to see and shop the line.
The signature item, RiRi Woo will be sold at her concerts and online, and will be sold with all four collections. Her following summer collection, which includes two additional lipsticks, a Lustre Drops bronzer and a powder blush duo, also will be sold online. The third collection which includes four lipsticks, a Lipglass version of RiRi Woo, two eye shadow palettes and fake eyelashes will be sold in retail stores this fall, followed by the holiday collection which includes 10 items, like nail polish, a makeup bag and more lipsticks.


Rihanna said "When you think of makeup, the brand that pops into your mind — for something legit — is MAC. Whatever color you want, it's like 'Let's go to MAC.' I've been using MAC on tour for such a long time it was a natural fit for me. I have always loved makeup, and I always said that if I do it, I want to do it with a credible brand."
She continued: "Being creative is something that I love, so I can put that into different outlets. Music happens to be the first thing that I gravitated to, and now music opens doors to just so many different opportunities, and they all tie in. My makeup looks, my fashion looks…they help me to express myself as an artist. I think it helps people to understand me or my mood, my story."
What do you think of this collaboration? Is it truly a 'no-brainer'? Will you be buying?