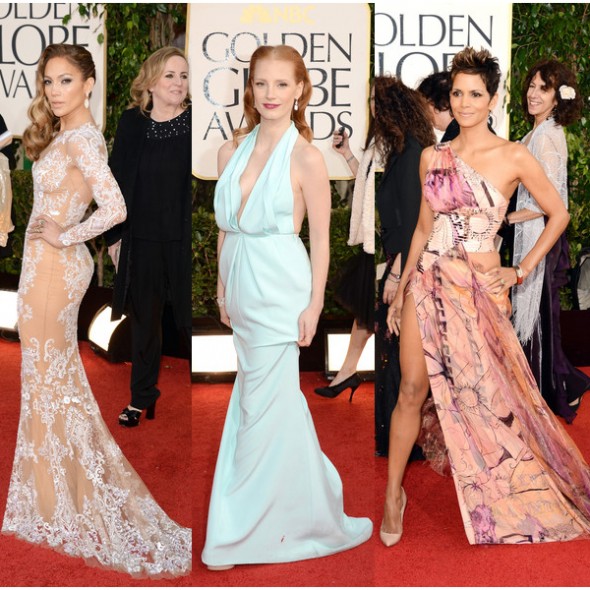 Last night marked the unofficial start of awards season! Celebrities showed up in their best (and worst) at the 70th Annual Golden Globe Awards, held at The Beverly Hilton Hotel in Beverly Hills, California. This year's awards were full of laughs (thanks to co-hosts, SNL stars Tina Fey and Amy Poehler), surprises (Jodie Foster's revealing acceptance speech; Jennifer Lawrence's Meryl Streep 'diss') and awkward moments (J. Lo, P. Diddy and Ben Affleck in the same room together – yikes!). But aside from the awards and memorable moments, it's really all about the red carpet fashion. Take a look!
WHO LOOKED HAUTE: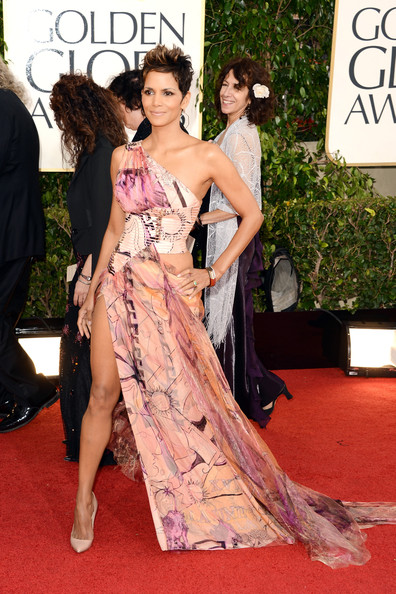 If this is what 40-something looks like, then I need to stay in my thirties and work a little harder! "Cloud Atlas" actress Halle Berry gave Angelina's leg a run for its money when she hit the red carpet in a one-shoulder printed gown with a super high slit by Atelier Versace. She accessorized with Madstone 18K gold diamond earrings and 18K gold stackable diamond bangles and nude pumps, plus her signature pixie hair cut that no one but her seems to be able to look as good in!

Jennifer Lopez stunned per usual as she hit the red carpet in a Zuhair Murad sheer, lace gown with her hair in waves cascading to one side. She accessorized with Le Vian 18K strawberry gold earrings with vanilla diamonds, a 14K strawberry gold flower ring with vanilla and chocolate diamonds and a 14K honey gold ring with vanilla and chocolate diamonds. Her beau Casper wore a complementary white suit. J. Lo looked glam as always, but haven't we seen her do this lace dress/side waved hair red carpet look so many times before?

"Silver Linings Playbook" actress and Golden Globe winner Jennifer Lawrence wore a striking orange Christian Dior Fall 2012 couture gown, with a corset-style top and full skirt. The glamorous gown featured a skinny black belt around the waist, and 'J. Law' (as she was jokingly nicknamed by Will Ferell and Kristen Wiig) wore her hair in a wavy updo.

Nicole Richie channeled old Hollywood glam in a beautiful light blue lacy Naeem Khan gown. She wore matching light blue eye shadow and her hair slightly waved. Nicole kept her accessories simple with Arunashi 18K yellow gold diamond eternity stackable rings and a House of Harlow metal fringed clutch.

"Homeland" star and Golden Globe winner Claire Danes has been one of my favorite actresses ever since "My So Called Life". So I'm a bit biased and I thought she looked beautiful in a a red halter style Versace dress. Accessorizing only with red shoes and beachy waved hair, the new mom rocked the red carpet!

"Scandal" & "Django Unchained" star Kerry Washington looked classic and gorgeous, as always, in a straight cut, crystal-embellished Miu Miu gown, accented with blunt cut bangs and makeup by Lancôme.

Taylor Swift is no longer that sweet, innocent young girl that Kanye West interrupted on stage! Last night she rocked a very mature, very demure eggplant-hued, mermaid style gown by Donna Karan Atelier. When she lost to Adele, she was seen giving what appeared to be the evil eye, rather than her usual sweet smile. And to top it off, co-hosts Tina Fey and Amy Poehler took a jab at her and her love for her many young boyfriends, saying "And you know what, Taylor Swift," "You stay away from Michael J. Fox's son," said Tina. Amy followed with "No, she needs some 'me' time to learn about herself." Ouch.
WHO LOOKED NOT SO HAUTE:


Salma Hayek looked as if she decided to attend the Golden Globes at the very last minute. She wore a glittery black Gucci gown which wasn't the problem – it was her messy hair that looked a bit off. I would have opted for a sleek chignon or some sort of up-do with a statement necklace to offset her bare neck. And perhaps earrings in a different color than blue and a lip color other than coral would have worked better with a sparkly black dress.

For someone with their own clothing line, I expected more from Sienna Miller. She wore a custom made (CUSTOM MADE?!?) two-piece floral top and skirt by Erdem. It looked like Grandma's drapes. Better luck next time.

"Zero Dark Thirty" star Jessica Chastain may have won big at the Golden Globes but she failed miserably on the red carpet. Her ill-fitting baby blue Calvin Klein gown featured a plunging neckline that did not accentuate her figure at all. Plus her hair parted down the middle looked odd (and it looked like it was time for a root touch up too). But, congrats to her on her win.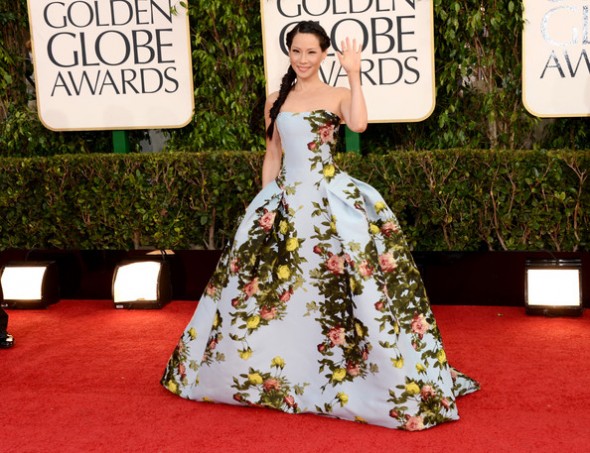 Lucy Liu is one of the most naturally beautiful women in Hollywood, so she really doesn't have to do much. But at last night's Golden Globes, she did way too much. Wearing a Carolina Herrera Pre-Fall 2013 strapless floral gown, the print and silhouette of the dress overwhelmed her small frame. Add to that the messy fishtail braid/side ponytail which took her look over the top. Lucy, for the future please remember: less is more.

Lena Dunham won her first Golden Globe last for her role in "Girls" on HBO, and was humble and shocked over her win. She wore a plum-colored Zac Posen gown, which was gorgeous, but her hair and makeup did nothing to accent the dress. For a glam pixie hairstyle, she should have taken cues from Halle Berry, who always gets it right!
Photos: Jason Merritt/Getty Images North America