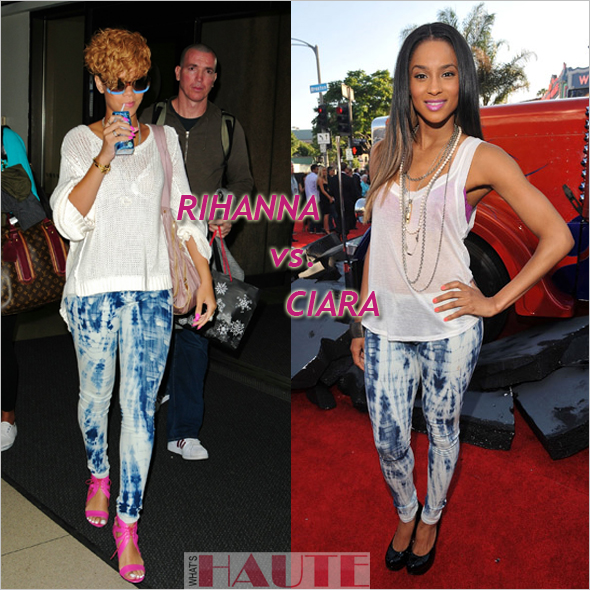 The jean legging (or 'jegging') trend has spilled over from 2009 into 2010. Whether you like them or not, jeggings aren't going anywhere. They're the perfect alternative to the jean – obviously more comfortable and they also come in a variety of washes and styles, like jeans. Rihanna and Ciara were both seen wearing the Charley 5.0 Skinny Mini Tie Dye Legging jeans ($159).
Ciara was first seen in her Charley 5.0 jeggings last summer on the red carpet of the 2009 Los Angeles Film Festival's premiere of "Transformers: Revenge of the Fallen" held in Los Angeles, California. She paired them with a sheer white tank over a pink bra, a layered chain necklace and black Yves Saint Laurent Trib Two Platform Pumps
.
Rihanna wore the cotton and polyurethane leggings recently, arriving at LAX Airport with her BFF Melissa and boyfriend Matt Kemp. She paired the jeans with a white knit top, hot pink Givenchy ankle sandals
and her Stella McCartney Technical taffeta tote
.
Did you notice both ladies accessorized with pink lips and nails? Guess that's what happens when you share the same stylist! But who do you think rocked the Charley 5.0 Skinny Mini Tie Dye Legging jeans hotter?
Shop Charley 5.0 and other apparel sales today at Gilt Fuse.