Your are here: Home // Posts Tagged With Stefano Gabbana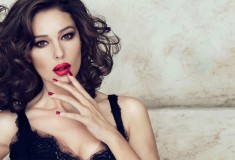 Nicole Richie is launching 'The Nicole Richie Collection' with QVC. The line will debut on the network's "The Buzz on the Red Carpet – Live From L.A." show on Feb. 24. The collection includes maxidresses, leather hobo bags and a printed kimono jacket, priced from $75 to $257. (WWD) How 'bout them Yankees…fragrances? Men's and women's New York Yankees scents will launch at the end of April in New York metropolitan area Macy's stores, at Yankees Stadium and online. (WWD Beauty) Wendy Williams just launched her costume jewelry collection,...
Read More..
Tags:
Adorn by Wendy Williams
,
Collections
,
Dolce & Gabbana
,
Domenico Dolce
,
Fashion + Beauty + Celebrity News Roundup
,
Florence + the Machine
,
Florence Welch
,
Givenchy
,
Kanye West
,
Limited-Edition
,
Lipstick
,
Macy's
,
Makeup
,
Monica Bellucci
,
New York Yankees fragrances
,
Nicole Richie
,
QVC
,
Riccardo Tisci
,
Stefano Gabbana
,
The Buzz on the Red Carpet - Live From L.A.
,
The Nicole Richie Collection
,
The Nicole Richie Collection at QVC
,
TopShop
,
Vogue Magazine
,
Yankees Stadium