Your are here: Home // Posts Tagged With smokey eye look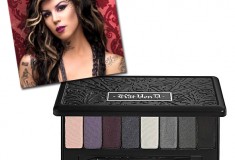 Do you love the smokey eye look but are unsure how to do it? Are you afraid to use dark eyeshadows? I am going to give you step-by-step instructions on how to create a smokey eye look that you can use with any color palette you choose. I prefer to use white, gray, and black, but you can apply the technique to purples, blues or greens as well. If you are looking for a new palette, I'd recommend Kat Von D's True Romance Eyeshadow palette in Sinner, which gives you basic black and grey as well as purple shades. You also need a basic brush set like this Sephora Classic Double-Ended Dramatic...
Read More..
If you have been following fashion and beauty trends, then you know that orange is THE color of the moment. I was so excited when I saw that Sephora had teamed up with color authority Pantone Universe and created sets based on Tangerine Tango, the 2012 Color of the Year.  Although it may seem like a bright color, it is universally flattering and will look great this spring and summer. I went to Sephora a week after the sets debuted and they were flying off the shelves. I was lucky to grab the last Sephora + Pantone Universe Color of the Year Collector's Edition Set. The set contains an...
Read More..