Your are here: Home // Posts Tagged With NBC Universal
Who says maternity dresses can't be glam? Ok, so it's not a true maternity dress but apparently it looks great on pregnant ladies! Singer Jessica Simpson and reality TV star Kim Zolciak (The Real Housewives of Atlanta) both stunned recently in the floor length Roberto Cavalli Draped floral-print silk-chiffon gown. Jessica first wore the $2,220 gown when she appeared on Jimmy Kimmel Live on March 19 to discuss her show Fashion Star on NBC. She paired it with a black leather moto jacket. Kim wore the same rose-printed frock last week at NBC Universal's Summer Press Day. She posed...
Read More..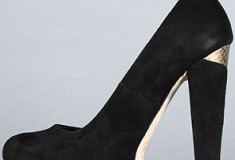 Nicole Richie was once known for her boho-style, thanks to her former stylist Rachel Zoe. But thankfully that period is history! We love how she's transitioned over the years into more of a contemporary fashionista, often dressing from her own fashion lines (Winter Kate and House of Harlow). And even though those lines feature some boho pieces, she pairs it with edgy items from other designers. This spring everyone else is into pastels or bright colors, so Nicole stood out dressed in all black leather at the NBC Universal summer press day in Pasadena, CA, where she was promoting her NBC...
Read More..