Your are here: Home // Posts Tagged With Animal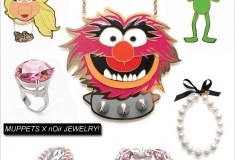 Being lovers of jewelry and The Muppets alike (yes, we proudly went to see the movie and would see it again in a heartbeat) – how excited we were to discover nOir Jewelry's 'The Muppets' collection! The line includes 7 pieces of Muppet-inspired baubles, like rings, bracelets and necklaces, and we'd rock each and every one. We think the CZ & Pink Pearls ring, Miss Piggy's pearl necklace, bracelet and ring are perfect for accessorizing cocktail dresses. The Miss Piggy and Kermit the Frog pendant necklaces are super fun to wear anytime And the Animal pendant necklace...
Read More..
Louis Vuitton unveiled "Louis Vuitton: The Art of Fashion," an exhibition curated by Katie Grand held at design museum La Triennale in Milan, Italy to coincide with the start of Milan Fashion Week. The exhibit features a display of 30 key looks and celebrates the creativity of artistic director Marc Jacobs' for Louis Vuitton. (WWD, subscription required) It's the end of an era – Dolce & Gabbana announced it's folding the D&G line. Today's fashion show will be the last ever for the brand. (WWD, subscription required) British author Barbara Taylor...
Read More..
Tags:
Animal
,
Barbara Taylor Bradford
,
Barney's
,
Beyoncé
,
Beyoncé Pulse fragrance
,
California Caviar Company
,
Celebrity fragrances
,
Crossbody bags
,
D&G
,
D&G Dolce & Gabbana
,
Dream Downtown
,
Fashion + Beauty + Celebrity News Roundup
,
Fozzie
,
Fur
,
Gonzo
,
Hermès Drag bag
,
Hermès Evelyne
,
Hermès Kelly
,
Hung On U handbags
,
Kermit
,
Louis Vuitton
,
Louis Vuitton: The Art of Fashion
,
Marc Jacobs
,
Milan Fashion Week
,
Miss Piggy
,
Muppets X OC
,
Muppets X Opening Ceremony
,
Opening Ceremony
,
Patti Hansen
,
West Hollywood